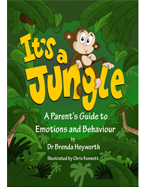 It's a jungle A parents guide to emotions and behaviour
2 Hours to read
Written by Sunshine Coast mother and child psychiatrist Dr Brenda Heyworth, the advice is practical, and it works. In essence, the book teaches you the framework to help settle the big emotions in our kids and ourselves. This enables you not to get lost in the anger of the moment. 'It's a Jungle' is aimed at people who are caring for children. It's not a diatribe on look how much I know. Or here are consequences for every possible misdemeanor your child dreams up. It's easy to read and not complicated. It delivers a simple message consistently.
I read it several months ago and we are still using the 'rule, consequence and fresh start' approach. We have given up the formula – you are 10 – so you get 10 minutes sitting on the step. I have found the formula of 'rule consequence and fresh start' a better way to keep the calm in our house. Dr Heyworth suggests that sport provides a perfect framework for dealing with children's behaviour. Prior to a football game everyone knows the rules. It is the same in my house. My kids know there's a no hitting rule. This is not news for them. Referees use few words, are matter of fact, calm and quiet. My referee skills need some honing.
I read a lot of parenting books and they often save the best bits until last. Dr Heyworth is no exception. Chapter 15 is gold, as she reminds us that parents are the most important people in children's lives and that children need to know that they are loved and that they belong. Sometimes my expectations of my children are the same expectations that I would have for an adult. This book is a helpful reminder that prefrontal cortex is still developing for kids. Dr Heyworth lives and works on the Sunshine Coast, and if you get a chance to hear her speak it is worth the effort of attending. She shares a simple fresh approach.
The book is self-published and is available from www.itsajungle.com. However, I think that local book shops should stock it, as the postage and packing is unpleasant. My only criticism is that I hate the font, it reminds me of notes that you get from a kindergarten. But that's a small price to pay for discovering what could be your family's new peace-keeping strategy.